Seamless Gutters
Considering replacing your gutters? Make sure that you are getting seamless gutters your home's new guttering system. As the name suggest, seamless gutters do not have any unsightly seams. Gutter seams are subject to rust and leak at the seal with heavy water flow, especially if they are not sealed securely.
Farrell Home Services offers custom-fit, seamless aluminum gutters that are actually made at your home. This ensures that your new gutters are sized to perfectly fit your roof. This also prevents dings, dents, scratches, and other damage during set and delivery. Aside from the functional benefits of using seamless gutters, the overall look and curb appeal to the home is improved with custom fit seamless gutters.
Our seamless gutters are made to fit any roof style and come in several colors, matching today's most popular exterior paint choices: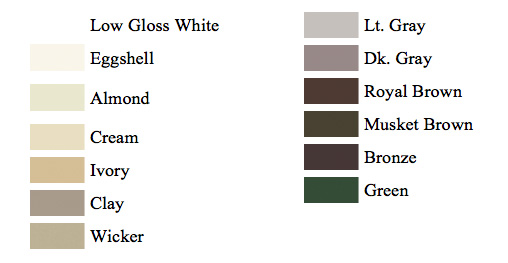 Gutter Protection
Protect your existing gutters and downspouts with the most advanced gutter protection system you can have installed. No more clogs, no more gutter cleaning!
The biggest benefit and payout of a gutter protection system is the avoidance of erosion and drainage problems that can ruin your home's roof, cause mold in your attic and water damage to your fascia and soffit. Installing gutter protection will save you significant repair costs in the long term and of course, you also save yourself the hassle of cleaning out your gutters every few months.

No matter your preference in gutter colors or gutter leaf protection, Farrell Home Services is ready to remove the old and install the new. Call us today for all your gutter needs – Farrell Home Services – 727-845-8326